Dow Jones and CM1 welcomes you to a joint AML-event on March 16th at Handelsgillet in Helsinki.
Financial institutions and companies are challenged every day by criminal organizations to become involved in money laundering.
To prevent it CM1, market leading technical AML-platform, together with Dow Jones, a global provider of risk data and due diligence services make sure that customers are not involved in any illegal activity.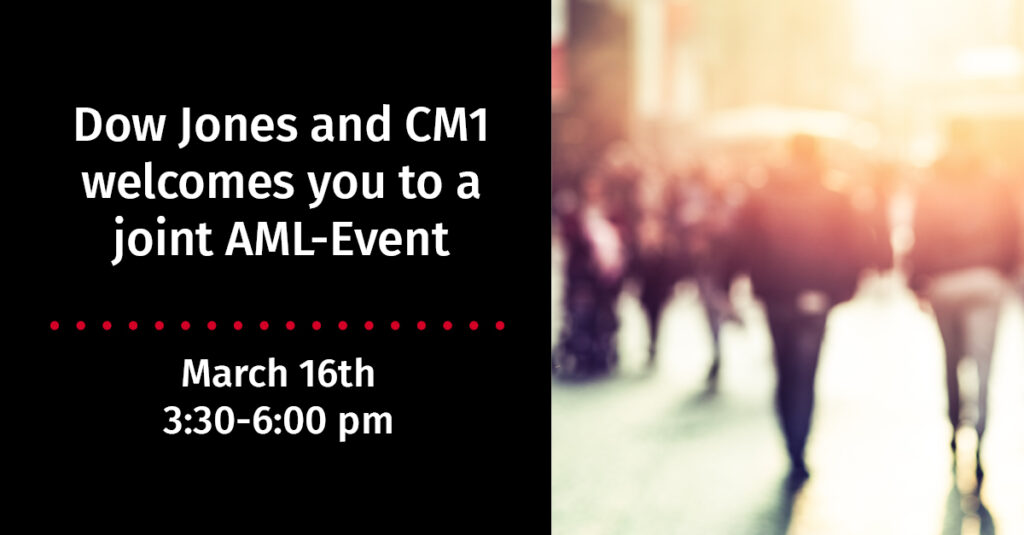 The evening agenda:​
​ 3:30 p.m. Registration and mingle. We offer finger foods and drinks during the evening.​
​4:00 p.m.​ Dow Jones – Axel Cambier and Markku Suonmaa​ 
Introduction to Dow Jones Watchlist​
Sanctions - 2023 update​
Sanctions Control Ownership - 2023 update​
Data Quality, Coverage and Accuracy​
Reduction of False Positives​
4:30 p.m  Softronic – CM1 – Johan Gedda, Mia Johansson and Ingela Utter Gille ​ 
Introduction to CM1
PEP/RCA and sanctions screening (Onboarding and Continuous)

Transaction monitoring - rule configuration, classification, and reporting.​
Risk engine – customer categorization, business risk parameters, risk classification of customers​
KYC-Know your customer
​5.00 p.m. Continued networking, mingle and available CM1 demo stations ​
6.00 p.m.  The evening ends​.
Time and place:
Thursday March 16th from 3:30 pm to 6:00 pm.​
Handelsgillet, Kasarmikatu 23, 00130 Helsinki
Please register before March 8th.
Fill in the form below to register!